Many of you must be thinking of kitchen renovation because your present one is not supporting various new appliances that you have. Mentioned below are a few nice ideas that will help transform your old kitchen into a modern one.
Here are a few ideas that you can discuss with your kitchen contractor.
1.    Wallpaper
Many of you may not even dream of putting any wallpaper in your kitchen as there is always a chance of food splatters or grease ruining it. However, if you are using your wallpaper that remains covered by the glass, then it can surely make a great feature.
2.    Exposed ceiling
By removing your previous low ceiling, you could only find a few raw wood rafters present on your roof. By clearing that you can obtain a very useful vertical space in your kitchen to include kitchen cabinets and create more storage space.
3.    Cheery cabinet colour
Why don't you paint all your kitchen cabinetry with a bold blue paint colour that was earlier coloured with a traditional white or wooden tone? You will get a completely new feeling after this transformation.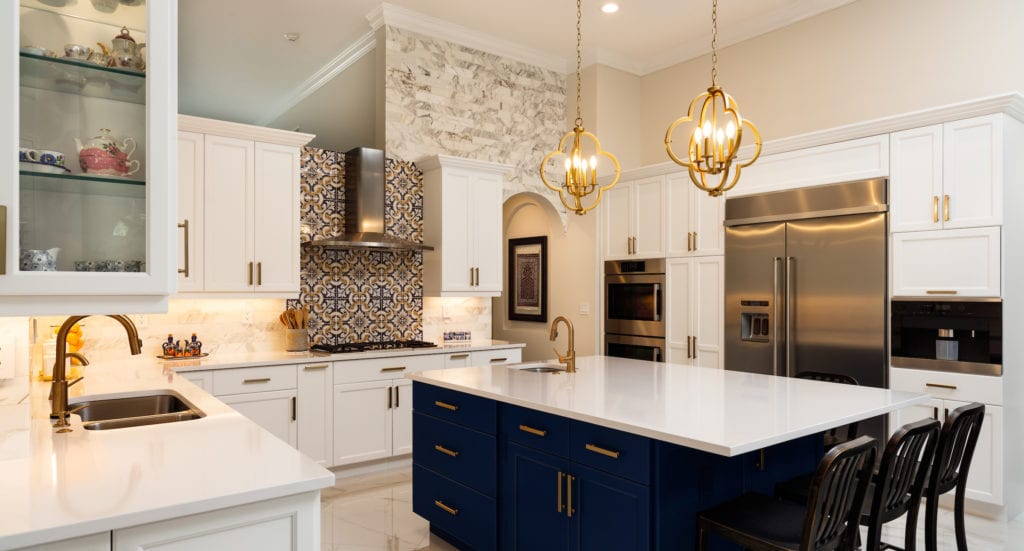 4.    Island paradise
If you find your kitchen size is not big enough then the first thing that you can do is transform your refrigerator into a cabinet and integrate it with them. Then replace the hulking island with a new island that offers more space.
5.    Thinking inside the box
If you have got a small kitchen, then you need to think creatively to rearrange it. You can just add a breakfast bar and also move all your cooking activities over there. This will offer lots of free space for cabinets.
6.    Replacement therapy
Make a change in your breakfast bar that was earlier an interior wall. Just by replacing this wall with the stools and bar, you can introduce ​a whole new extra area for your kitchen and you will get plenty of light.
7.    Hexagonal tile backsplash
So far you have seen in kitchen design the tiles are either square or rectangular shape. Now change them with hex tiles and then you will wonder why you have been putting up with those squares and rectangles for so long.
8.    Gorgeous galley
Normally a galley-style kitchen will be small. The effective solution for such kitchens will be to get a wall removed. Typically, one wall is an exterior wall that cannot be removed. So, remove the opposite wall and park your dishwasher and sink.
9.    The multipurpose table on the wheels.
If your full-time dining table is taking up your lot of floor space, then get a table on wheels. This dining table can be easily tucked under your large island for creating a breakfast bar.
10.Tile delight
Colourful or any visually interesting tile can work wonders within small spaces too. By choosing your tile that may feature different colors, and pair it with simple, and modern white cabinets.
You can visit any kitchen company near your area to see how you can implement these new ideas to transform this important portion of your home.